March 2011 • Vol. 1 • Issue 2
From the Director's Desk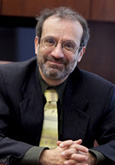 A Road Less Travelled

The U.S. House of Representatives recently passed a budget bill that, if the Senate also passes it, would cut National Institutes of Health funding by $1.6 billion, or by about 5 percent. Though 5 percent doesn't sound like much, a cut of that magnitude should be of extreme concern to every federally-funded cancer researcher, especially for investigators early in their careers.

Former NIH director Harold Varmus, now director of the National Cancer Institute and a Nobel Prize winner in medicine, said of the NIH, "The most important thing we do is make new awards to people with new ideas." Varmus used one-third as his rule of thumb for NIH funding of awards to new grant applications. As of late, approximately one in six grants of this type are funded. This year, it will be closer to one in 14.

This era of diminished NIH funding presents the UF Shands Cancer Center with a bend in the road. But, a bend in the road is not the end of the road unless you fail to make the turn. I believe we can successfully steer our research enterprise toward new opportunities to translate our discoveries into patents, which will spin off new industry, build our economy and ultimately result in patient treatments that keep our scientists funded and physicians busy. Diversification of our research portfolio is necessary and critical to this effort — to preserve the careers of our young investigators and to help our research programs survive and thrive during an interval of decreased federal funding.

Toward this end, our scientists have been challenged to translate their discoveries into products, contracts and grant applications. Heeding that call, I am pleased to say applications are at an all-time high, with a combined "ask" of more than $90 million so far this year, three spinoff companies have been formed, and we expect at least one patent to be licensed soon.

I wish you all the best and thank you for your hard work. Keep it up!

Paul Okunieff, M.D.
Director, UF Shands Cancer Center
Oncology Kudos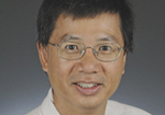 Nam Dang, M.D., Ph.D.
Dang named medical director of the FLASCO Cancer Trials Network
Nam H. Dang, M.D., Ph.D., has been named medical director of the FLASCO Cancer Trials Network. As FCTN medical director, Dang will coordinate the network's efforts to provide a statewide framework of cooperation and collaboration among community practices and academic centers in Florida, with the end goal being to increase the number of, and patient access to, high quality cancer trials to reduce cancer incidence and mortality. Dang, a professor of medicine, the deputy chief of the College of Medicine's division of hematology/oncology, and director of the UF Shands Cancer Center Clinical Trials Office, will serve a renewable two-year term, and replaces Randal H. Henderson, M.D., M.B.A., a professor of radiation oncology and associate medical director of the UF Proton Therapy Institute. Henderson will continue to serve as chairman of the FCTN Board of Directors.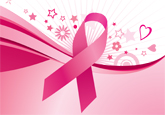 UF Breast Center now offers high risk clinic
The UF Breast Center High Risk Clinic is now accepting patients with the goal of providing evidence-based prevention of breast cancer to patients at above-average risk. Women are at increased risk based on: 1. Family history; 2. Prior breast biopsies; 3. Prior thoracic radiation therapy; 4. Current or prior hormone replacement therapy; 5. Reproductive history; 6. Ashkenazi Jewish heritage, and; 7. Breast density. The clinic sees patients the first and third Mondays of the month, and provides individualized risk assessment and plan development, which may include breast MRI, genetic counseling and/or testing, chemoprevention and lifestyle modification. For more information, visit shands.org/breastcenter or call (352) 265-7070.
In The News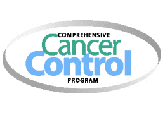 Florida Cancer Plan 2010 and Florida Cancer Plan Guide Now Available
The Florida Comprehensive Cancer Control Program recently released the Florida Cancer Plan 2010 and Florida Cancer Plan Guide: Building Blocks to Reduce the Burden and Enhance Cancer Collaboratives. The plan and guide were achieved through the dedication of Florida's leading cancer experts and partners who are committed to providing a plan of action to reduce incidence, disability, and mortality related to cancer. Both documents are available online.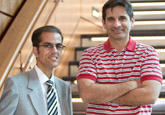 Christopher Cogle, M.D., and Peter Sayeski, Ph.D.
Potential new drug treats blood disorders by halting overproduction of blood cells
Like a switch stuck in the on position, the bone marrow can churn out blood cells that bloat internal organs and clog blood vessels, leading to life-threatening disease. Now University of Florida scientists have discovered a potential new drug that can throw the switch on the runaway blood cell-production mechanism. The drug shrinks cell-gorged organs and stems the overproduction of blood cells, and the researchers are working toward bringing it into clinical trial in one year.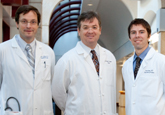 Steven N. Hochwald, M.D., Stephen Grobmyer, M.D., and Luke Gutwein, M.D.
UF researchers find surgical breast biopsies overused in Florida
Thousands of women receive unnecessary surgical breast biopsies in Florida each year, University of Florida researchers state in an article published online this week by the American Journal of Surgery. These surgeries carry greater health risks and are more expensive than a less invasive, equally effective procedure called a needle biopsy.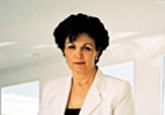 Shahla Masood, M.D.
Leading breast cancer experts speak at UF, Moffitt symposium
Leading experts in breast cancer treatment and research spoke at the 16th annual Multidisciplinary Symposium on Breast Disease, held Feb. 10-13 at the Ritz-Carlton in Amelia Island, Fla. Sponsored by the University of Florida and the H. Lee Moffitt Cancer Center, the symposium brings together all the physician-scientists, health-care providers and patient advocates involved with breast cancer care under one roof.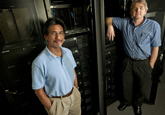 UF computer researcher Herman Lam (left) and Alan George, founder and director of the NSF CHREC Center, pose with the Novo-G.
UF super computer touted as world's fastest
UF's Novo-G super computer, used by many UF cancer scientists to do superfast number crunching of research data, made it into the news last month as the world's fastest computer. Most of the world's computers, from smartphones to laptops to Tianhe-1A, feature microprocessors with fixed-logic hardware structures. All software applications for these systems must conform to these fixed structures, which can lead to a significant loss in speed and increase in energy consumption. By contrast, with reconfigurable machines, a relatively new and highly innovative form of computing, the architecture can adapt to match the unique needs of each application, which can lead to much faster speed and less wasted energy due to adaptive hardware customization. Novo-G uses 192 reconfigurable processors and "can rival the speed of the world's largest supercomputers at a tiny fraction of their cost, size, power, and cooling," the researchers noted in a new article on Novo-G published in the January-February edition of the IEEE Computing in Science and Engineering magazine and the online Science Daily
Research News
Cancer Funding Request Form Now Available
The UF Shands Cancer Center Funding Request is designed to increase developmental support of your programs by making the UF&Shands Cancer Development Team aware of funding needs and opportunities throughout the Health Science Center. Submissions will be shared with prospective donors and our Cancer Center Leadership Council and may be posted on the cancer center's online giving page. The information also can be used to encourage collaborations of similar projects and to identify projects that match the funding requirements for private foundation grants. UF Shands Cancer Center Development Director Denise Stobbie and other members of the cancer development team are available to assist faculty members in contacting individuals and organizations who may be interested in funding projects.
shRNA Libraries
The Thermo Scientific-OpenBiosystems Expression Arrest microRNA-adapted shRNA (shRNAmir) libraries, developed in collaboration with Greg Hannon of Cold Spring Harbor Laboratory and Steve Elledge of Harvard University, are available for UF Shands Cancer Center scientists. shRNAmir triggers for mammalian RNAi are based on current knowledge of the endogenous microRNA biogenesis pathway. shRNAmir constructs are designed to mimic a natural microRNA primary transcript, enabling specific processing by the endogenous RNAi pathway and producing more effective knockdown (Silva et al 2005). Genomewide shRNAmir libraries incorporate several features aimed at increasing the efficiency and specificity of gene knockdown providing solutions for diverse RNAi applications. The human retroviral shRNAmir genome-wide library covers 28,500 human genes with multiple constructs/gene. Currently the library consists of 81,500 shRNAmir constructs. The shRNAmir genome wide library is in 96-well microtiter plates containing frozen stock cultures of E. coli (DH10bpir116) in LB broth with 8% glycerol and chloramphenicol (50ug/ml). For more information, contact Greg Tyler at 273-8263 or tylerg@ufl.edu
Mark Your Calendar!
Topics in Cancer Spring
Seminar Series
Fridays at 9 a.m., Room 451A
Cancer & Genetics Research Complex

20th Annual Small Business
Conference & Trade Fair
March 24, 9:00 am - 4:00 pm
Hilton University of Florida
Conference Center
Conference/registration info
April is National Donate Life Month
Join the photoshoot for the Living Green Ribbon to promote organ and tissue donation
April 1 at 8:00 am
ARB courtyard outside the HSC Founders Gallery, wear Kelly green and the first 150 participants will receive T-shirts
Visit the Living Green Ribbon website

Third Annual NuNu 5K Race
Benefitting Triple Negative Breast Cancer Research
April 2 at 9:00 am
Mowry Road & Gale Lemerand Drive. To register, visit www.nunu5k.com/

Cancer Center Grand Rounds
Lee M. Ellis, M.D.
Professor of Surgical Oncology
MD Anderson Cancer Center
April 9 at noon, Rooms 1204 & 1205, Shands Cancer Hospital at UF

Contact Us
Do you have a great story, or have you been honored with an award or had research accepted for publication? Let us know! We'll include it in the Cancer Connection eNews, which is distributed monthly to UF Shands Cancer Center members and the faculty and staff of the center's multidisciplinary cancer programs. Send your news to:
Lindy Brounley
Communications Director
UF Shands Cancer Center
Phone: 352-273-8013
E-mail: brounley@ufl.edu