May 2011 • Vol. 1 • Issue 3
From the Director's Desk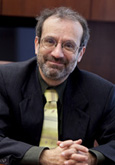 The right stuff
You are a member of a cancer center that is growing—in purpose, in successes and in stature. Even in these uncertain economic times, we are building on our achievements to assure the right infrastructure and the right people are in place to forge a path to the future that relies on shared vision, mutual goals and a combined effort.

Having the right people in the right place at the right time is no accident. That's why I'm so pleased to announce the appointments of three cancer center administrators who will be instrumental in leading our efforts to strengthen our clinical and research enterprises. John Wingard, M.D., who in the past served as deputy director of the cancer center, is now deputy director for research. He is joined by Jon Graham, Ph.D., as deputy director for clinical operations, and Spencer Hoover, M.B.A., who will become a member of our cancer center team later this month as associate director.

These men join you in your work to achieve our mission of providing cancer care and conducting research for the prevention, early diagnosis and treatment of cancer. It is the combined strength of all of our efforts that will forge a future for the continued growth and success of the UF Shands Cancer Center in meeting that goal.

Thank you for all you do.

Best,

Paul Okunieff, M.D.
The Marshall E. Rinker Sr. Foundation & David B. and Leighan R. Rinker Chair
Director, UF Shands Cancer Center
Professor & Chair, Department of Radiation Oncology
Oncology Kudos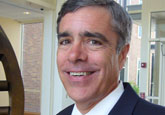 Jon Graham, Ph.D., FACHE
Graham appointed UFSCC deputy director for clinical operations
Jon Graham, Ph.D., FACHE, is appointed deputy director of clinical operations for the UF Shands Cancer Center and a research assistant professor in the department of radiation oncology. Graham is a senior health care executive with more than 20 years experience in hospital operations, physician practice leadership, business development and strategic planning, and oncology. He will provide leadership associated with the planning, developing, implementing and coordination of all UF&Shands clinical service oncology programs and administrative leadership necessary to improve multidisciplinary oncology clinical activities.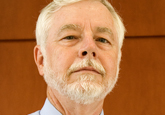 John Wingard, M.D.
Wingard appointed UFSCC deputy director for research
John Wingard, M.D., a professor and eminent scholar in the College of Medicine division of hematology and oncology and director of the UF&Shands Bone Marrow Transplant Unit, is appointed deputy director for research for the UF Shands Cancer Center. As the center's deputy director of research, Wingard's principal responsibilities will be to oversee cancer clinical trials and to strategically advance the core grant-related initiatives and infrastructure of the center and its partner organizations.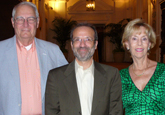 David Rinker, Paul Okunieff, M.D., and Leighan Rinker
The Marshall E. Rinker Sr. Foundation establishes chair at UF to advance cancer research, patient care
The University of Florida College of Medicine has announced the appointment of Paul Okunieff, M.D., as the Marshall E. Rinker Sr. Foundation and David B. and Leighan R. Rinker chair. The chair was established last year with a 10-year pledge of $1.2 million from the foundation and the Rinkers. The gift supports the physician in chief of the Shands Cancer Hospital at UF and the College of Medicine's academic cancer program.
"The board of the Marshall E. Rinker Sr. Foundation and I are impressed with the high level of cancer care and research being accomplished at UF and Shands," said David B. Rinker. "We are proud to support this very important work and hope the establishment of this chair will help further advance cancer treatment and research for the people of our state."
Read more
In The News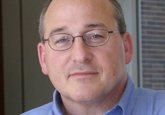 David Reisman, M.D., Ph.D.
UF researchers find quiet protein speaks loudly in fight against cancer
When a movie character says, "It's too quiet," that's usually a sign something bad may happen.
Now, University of Florida researchers have discovered that when variations of a certain protein in our cells are too quiet, it may add to the risk that someone will develop lung cancer. When scientists restored the protein to its normal, active self, its cancer-inhibiting properties reappeared.
These discoveries, published in two reports in the online version of Oncogene, provide evidence that drugs can potentially suppress tumor growth by restoring cellular processes rather than inhibiting cancer-causing genes known as oncogenes.
"It's a well-accepted fact that you can inhibit things, particularly oncogenes, that drive cancer. Oncogenes are the cancer's gas pedal," said principal investigator David Reisman, M.D., Ph.D., a UF associate professor of medicine and a member of the UF Shands Cancer Center. "What we've done is demonstrate the feasibility of reconstituting the cancer brake."
Read more
Space research comes to the First Coast at UF Proton Therapy Institute
In the search for life on other planets, scientists want to be sure they are not detecting stowaway life forms from Earth.
That's why researchers from the University of Florida and the German Aerospace Center (DLR) convened at the UF Proton Therapy Institute one weekend last month—to test whether certain harmless but hardy Earth microorganisms could survive a type of cosmic radiation encountered during interplanetary flight.
The space environment is filled with radiation, such as X-rays, gamma rays, protons, electrons and heavy ions. High-energy protons are the most abundant type of charged particle in deep space outside the Earth's magnetic field. The proton accelerator used to produce therapeutic doses of radiation for cancer patients also can be used to simulate the conditions of outer space.
"Patients and visitors to UF Proton Therapy Institute often remark that our treatment rooms look like something from the television series 'Star Trek,'" said Stuart Klein, executive director of the UF Proton Therapy Institute. "The sophisticated science and engineering used every day in treating patients is awe-inspiring. This collaboration with UF, NASA and the DLR adds another level of significance to the truly unique resource we have here in Jacksonville."
Read more
Research News
Cancer funding request form now available
The UF Shands Cancer Center Funding Request is designed to increase developmental support of your programs by making the UF&Shands Cancer Development Team aware of funding needs and opportunities throughout HSC. Submissions will be shared with prospective donors and our Cancer Center Leadership Council and may be posted on the cancer center's online giving page. The information also can be used to encourage collaborations of similar projects and to identify projects that match the funding requirements for private foundation grants. UF Shands Cancer Center Development Director Denise Stobbie and other members of the cancer development team are available to assist faculty members in contacting individuals and organizations who may be interested in funding projects.
shRNAi library expansion opportunity
David Reisman, M.D., Ph.D., is seeking feedback from research faculty and their laboratories regarding investigator interest in expanding the cancer center's shRNAi library. shRNAi approaches are valuable techniques for many scientific areas, and the current library, though an important component of the center's core facilities, is small and not all genes are adequately knocked out. There may be opportunities to expand the library through support from administration, private donors and, possibly, through the NIH, but it is important to know how many investigators would potentially benefit from upgrades to the library.

If you or your lab would benefit from an expansion of the cancer center's shRNAi library, contact David Reisman to discuss in greater detail.
Mark Your Calendar!
The ONCO-i2b2 project: Integrating biobank information and clinical data to support translational research in oncology
Riccardo Bellazzi, Ph.D.
Full Professor of Bioengineering and Group Leader, Bioinformatics and Data Mining Group, Biomedical Informatics Laboratory, University of Pavia, Italy; Director, Biomedical Informatics Laboratory, IRCCS Fondazione S. Maugeri, Pavia, Italy
May 23, 3 to 4 p.m.
Room R2-265
Academic Research Building
For more info, email Claire Baralt

CTSI Seminar Series
Linda B. Cottler, Ph.D., M.P.H.
Founding Chair (incoming), UF
Department of Epidemiology; Professor of Epidemiology;
Director, Center for
Community-Based Research;
Washington University School
of Medicine in St. Louis
May 25, noon to 1 p.m.
DeWeese Auditorium,
McKnight Brain Institute
For more info, email Claire Baralt

Shands Women's Advantage Presentation
Physical Therapy for Breast Cancer Patients & Survivors
Presented by Kris Roberts and Shannon Blewett from Shands Rehab
May 25, noon to 1 p.m.
Hope Lodge, 2121 SW 16th Street
RSVP by May 23 to Barb Thomas

Clinical and Translational Research
Building Groundbreaking Ceremony
May 26, 1 p.m.
Northeast corner of Gale Lemerand and Mowry Drive

Memorial Day Holiday!
May 30, Have Fun and Be Safe!

Contact Us
After this issue, Cancer Connection eNews will take a break over the summer, but will return to your inboxes in September. In the meantime, if you have a great story, or have been honored with an award or had research accepted for publication, let us know! We'll include it in the Cancer Connection eNews, which is distributed monthly to UF Shands Cancer Center members and the faculty and staff of the center's multidisciplinary cancer programs during the fall and spring semesters. Send your news to:
Lindy Brounley
Communications Director
UF Shands Cancer Center
Phone: 352-273-8013
Email: brounley@ufl.edu