September 2012 • Vol. 2 • Issue 4
From the Director's Desk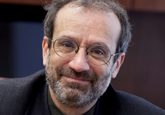 Paul Okunieff, M.D.
The road forward "post-NIH"
I have heard the world we academic researchers inhabit described as "post-NIH." Certainly, NIH/NCI support for cancer and biomedical research has been at a subsistence level for several years. This bleak funding environment makes it difficult to move important discoveries and technologies to the next level or train the next generation of young researchers to their fullest potential.
The bitter pill is that NIH/NCI funding is no longer fiat currency driving the new discoveries that result in profitable pharmaceutical products and new, more effective cancer treatments. Speaking before the National Press Club on Tuesday, Dr. Harold Varmus, director of the National Cancer Institute and co-recipient of the 1989 Nobel Prize in Physiology or Medicine for discovery of the cellular origin of retroviral oncogenes, laid out the stark reality that without adequate funding U.S. leadership in biomedical research will be lost to Europe and Asia. The domino effect of that will be diminished innovation in research and discovery, impacts to economic growth, and stagnation in improved cancer outcomes for our patients.
Yet, out of adversity comes opportunity. Diminishing NIH/NCI support opens doors for entrepreneurial science to replace translational science, as what used to be "bench to bedside" becomes "bench to product." This recalibration in perspective doesn't necessitate abandonment of our academic principles, rather it taps into the creativity and entrepreneurial spirit of our clinical and basic science research faculty to find new, sustainable sources of funding to support labs, train the next generation of biomedical scientists, and advance scientific knowledge.
The University of Florida has a rich history of growing academic and intellectual medical research, as the lasting endowments created by royalties from Gatorade and other intellectual properties attest. In addition, the cancer center is leveraging state, university and private resources to sustain and grow our research enterprise through seed grants to young scientists, private investments in discoveries ready to go to market and in diversifying our funding portfolio by offering grant application support to our researchers to pursue non-traditional sources of federal funding, like SBIR contracts and U10s that operate outside the box of traditional academic research.
Finally, I propose we UF researchers, in our longstanding tradition of collaboration, invest in each other; where we the researchers are the stockholders, investing in the intellectual ingenuity of ourselves and our colleagues. My confidence in our faculty is not unfounded; more than 30 patent disclosures are made each year through the university's office of technology transfer, and our university supports and courts entrepreneurial enterprise and investments. We have the talent and the drive to be the next Amgen, or should I say, GatorMed?
The creativity and intellectual capital of our faculty gives me great hope and optimism for the opportunities to be discovered in the post-NIH world. I ask you to join me trailblazing a new path for cancer research that will lead us all to a better future.
Best,
Paul Okunieff, M.D.

Director, UF Shands Cancer Center;
Chair, UF Department of Radiation Oncology;
Marshall E. Rinker Sr. Foundation and David B. and Leighan R. Rinker Chair
Oncology Kudos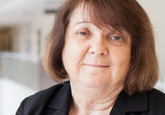 Barbara Ann Curbow, Ph.D.
Curbow to lead new cancer-reduction initiative
Barbara Curbow, Ph.D., a professor and chair of the department of behavioral science and community health in the University of Florida College of Public Health and Health Professions, has been selected to direct the UF Shands Cancer Center's newly established population science program.
Read more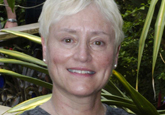 Maureen Goodenow, Ph.D.
Goodenow awarded prestigious science and policy fellowship
Maureen Goodenow, Ph.D., the Stephany W. Holloway University Endowed Chair for AIDS Research in the UF College of Medicine, department of pathology, immunology and laboratory medicine, and one of the nation's leading experts in HIV/AIDS research, has been named a 2012-2013 Jefferson Science Fellow by the U.S. Department of State.
Goodenow, one of just 13 fellows selected from around the country and the first from UF&Shands, the University of Florida Academic Health Center, will contribute to foreign policy discussions in the State Department.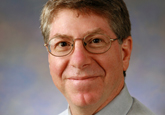 Carmen J. Allegra, M.D.
Allegra appointed editor-in-chief of the Journal of the National Cancer Institute
Carmen Allegra, chief of the division of hematology and oncology and associate director for clinical and translational research for the department of medicine and University of Florida Shands Cancer Center, is the newly-appointed editor-in-chief of the Journal of the National Cancer Institute. He succeeds Dr. Barnett Kramer, who served as editor-in-chief of the journal for more than 18 years. JNCI publishes peer-reviewed, original research from around the world in the fields of cancer research and treatment.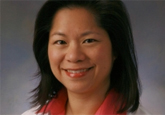 Emina Huang M.D.
Huang receives $1.5 million from NIH to study protein's role in colon cancer
Emina Huang, a colorectal surgeon and an associate professor in the UF College of Medicine's department of surgery, received a $1.5 million, five-year grant from the National Institutes of Health's National Cancer Institute to examine the role of an inflammation-causing protein in colon cancer development.
In The News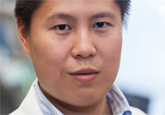 Chen Ling, Ph.D.
UF researcher aims to improve pediatric liver cancer treatment
A University of Florida researcher has received three grants to study gene therapy techniques that target hepatoblastoma, or HB, the most common pediatric liver cancer in the U.S. The disease is typically diagnosed in children under age 2, and while treatments have improved in recent years, nearly one-third of patients still die from the illness within 10 years of diagnosis. The most common treatment for the disease is a liver transplant, but donor shortages and post-transplant rejection can limit the widespread use of this procedure. As a result, new and more effective therapies are needed.
Chen Ling, Ph.D., a research assistant professor of pediatrics in the University of Florida College of Medicine, aims to develop novel gene-delivery vehicles called recombinant adeno-associated virus vectors, or rAAV, for use in gene therapy to selectively and efficiently target and destroy HB cells while minimizing the risk of additional damage.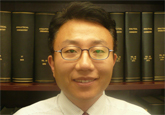 Y. Charles Cao, Ph.D.
UF "nanorobot" can be programmed to target different diseases
University of Florida researchers have received a $1.5 million, five-year grant from the National Institutes of Health's National Cancer Institute to examine the role of an inflammation-causing protein in colon cancer development.
Scientists suspect increased levels of the protein, called interleukin-8, or IL-8, may be partly to blame for increased rates of colon cancer among people who have ulcerative colitis, a condition that causes inflammation and bleeding in the lining of the colon and rectum.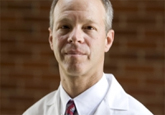 David Ostrov, Ph.D.
Ostrov discovers interaction between molecules key to dangerous drug reaction
University of Florida researchers have helped identify the underlying cause of a genetically derived, potentially fatal reaction to an anti-HIV medication, and have begun creating a less dangerous form of the drug.
A genetic mutation causes the drug, called abacavir, to hang onto molecules attached to cell surfaces, prompting the immune system to go on the offensive. Disrupting that connection prevents the negative reaction.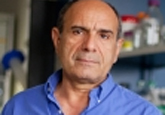 Mansour Mohamadzadeh, Ph.D.
Mohamadzadeh finds mutant gut bacteria reverse colon cancer in lab models
A mutant form of a meek microbe deals a gutsy blow to colon cancer, University of Florida scientists have discovered. The special bacteria halted abnormal inflammation, reduced precancerous growths and reversed progression of severe cancerous lesions in the large intestines of mice. The findings appear June 11 in the Proceedings of the National Academy of Sciences.
Clinical Trials
Open-label, Randomized, Phase 3 study of Inotuzumab Ozogamicin Administered in Combination with Rituximab Compared to Defined Investigator's Choice Therapy in Subjects with Relapsed or Refractory CD-22 Positive Aggressive NHL who are not Candidates for Intensive High Dose Chemotherapy.
The purpose of this study is to evaluate the efficacy of inotuzumab ozogamicin plus rituximab in relapsed/refractory aggressive Non-Hodgkin lymphoma patients who are not candidates for intensive high-dose chemotherapy. Specifically, the goal is to demonstrate the superiority of this combination compared with an active comparator arm (investigator's choice of rituximab+bendamustine or rituximab+gemcitabine) using the primary endpoint of overall survival.Protocol No. 20110552.
Principal Investigator: Nam H. Dang.
An Open-Label, Phase 1 Study Of R-CVP Or R-GDP In Combination With Inotuzumab Ozogamicin In Subjects With CD22-Positive Non-Hodgkin's Lymphoma
This is a phase 1 trial designed to evaluate safety and tolerability of chemotherapy in combination with inotuzumab ozogamicin, an investigational product, in adults with CD22-positive non-Hodgkin's lymphoma. The trial will involve two arms. In one arm, subjects will receive chemotherapy regimen R-CVP (rituximab, cyclophosphamide, vincristine and prednisone). In the other arm, subjects will receive R-GDP (rituximab, gemcitabine, cisplatinum and dexamethasone). Subjects in both arms will also receive inotuzumab ozogamicin.Protocol No. 20092016.
Principal Investigator: Nam H. Dang.
A Study to Test Safety and Efficacy of IMGN901 in Combination With Carboplatin/Etoposide in Patients With Advanced Solid Tumors and Extensive Stage Small Cell Lung Cancer
The purpose of this study is to test safety and efficacy of this combination treatment (IMGN901, carboplatin and etoposide) in patients with solid tumors and extensive stage small cell lung cancer. Protocol No. 20111757.
Principal Investigator: Frederic Kaye.
A Phase I Clinical Trial of OXi4503 for Relapsed and Refractory AML and MDS
This study is intended to determine the safety and maximum tolerated dose of a drug, OXi4503 (combretastatin A1 diphosphate, CA1P, OXiGENE), in patients with relapsed and refractory AML and MDS. Protocol No. 145-2010.
Principal Investigator: Christopher Cogle.
Lenalidomide and Prednisone in Low and Int-1 Myelodysplastic Syndrome (MDS) Non 5q MDS
The purpose of this research is to evaluate the use of lenalidomide and prednisone in people with Myelodysplastic Syndrome (MDS). Protocol No. 688-2011.
Principal Investigator: Christopher Cogle.
Sorafenib plus Capecitabine (SorCape) in previously treated metastatic colorectal cancer
Combining Sorafenib with standard cytotoxic fluoropyrimidine therapy for advanced colorectal cancer may provide clinical benefit when no other treatment remains.Protocol No. 507-2011.
Principal Investigator: Thomas George.
Gemcitabine with Abraxane and other Investigational Therapies in Neoadjuvant Treatment of Pancreatic Adenocarcinoma
Determine biochemical response rate (serum CA 19-9), radiographic response rate (CT and PET/SUV), pathologic downstaging, and margin negative pathologic resections (R0) in patients with borderline or resectable pancreatic adenocarcinoma who undergo gemcitabine, abraxane, and radiotherapy in a neoadjuvant fashion.Protocol No. 242-2011.
Principal Investigator: Thomas George.
A Phase 2, Open Label, Multicenter, Randomized Trial Comparing Tivozanib in Combination with mFOLFOX6 with Bevacizumab in Combination with mFOLFOX6 in Stage IV Metastatic Colorectal Cancer (mCRC) Subjects
The objective of this study is to compare the progression free survival (PFS), overall survival (OS), objective response rate (ORR), time to treatment failure (TTF), duration of response (DoR), quality of life, safety and tolerability of tivozanib in combination with mFOLFOX6 and bevacizumab in combination with mFOLFOX6.Protocol No. 20120788.
Principal Investigator: Thomas George.
A Phase III Study of Chemotherapy and Chemoradiotherapy With or Without HyperAcute®-Pancreatic (algenpantucel-L) immunotherapy in Subjects with Surgically Resected Pancreatic Cancer
The purpose of this study is to assess overall survival after treatment with a regimen of adjuvant therapy (Gemcitabine alone or with 5-FU chemoradiation) with or without HyperAcute®-Pancreas (algenpantucel-L) immunotherapy in subjects who have undergone surgical resection.Protocol No. 20100711.
Principal Investigator: Thomas George.
Mark Your Calendar!
Breast Symposium
Oct. 9, 6 to 8 p.m., Rooms 1204/1205,
Shands Cancer Hospital at UF
For more info, email Lindy Brounley

Pink Pumpkin Pedal-Off!
Charity Bicycle Ride for Triple Negative Breast Cancer Research here at UF&Shands
Oct. 13, 8:30 a.m.,
Cancer & Genetics Research Complex. For more info and to register online, click here


Second Annual Pink Pumpkin Fest!
Breast Cancer Awareness and Community Education Outreach
Oct. 13, 10 a.m. to 2 p.m.,
Cancer & Genetics Research Complex. RSVP to reserve your Pink Pumpkin!


Contact Us
Do you have a great story, or have you been honored with an award or had research accepted for publication? Let us know! We'll include it in the Cancer Connection eNews, which is distributed monthly to UF Shands Cancer Center members and the faculty and staff of the center's multidisciplinary cancer programs during the fall and spring semesters. Send your news to:
Lindy Brounley
Communications Director
UF Shands Cancer Center
Phone: 352-273-8013
E-mail: brounley@ufl.edu